Attleboro, MA- If there is anything that the pandemic-driven practice closure has taught the dental industry, it is that continued education is a must for resilience. Adding and sharpening skills must be at the top of the list to recoup resources lost. It is in this spirit that Sterngold Dental has reinforced its dental course offerings and strategically increased access to them by expanding the choice of platforms for delivery. Enter iDentalCourses.com, a course platform for continued dental education featuring online and classroom courses from international providers.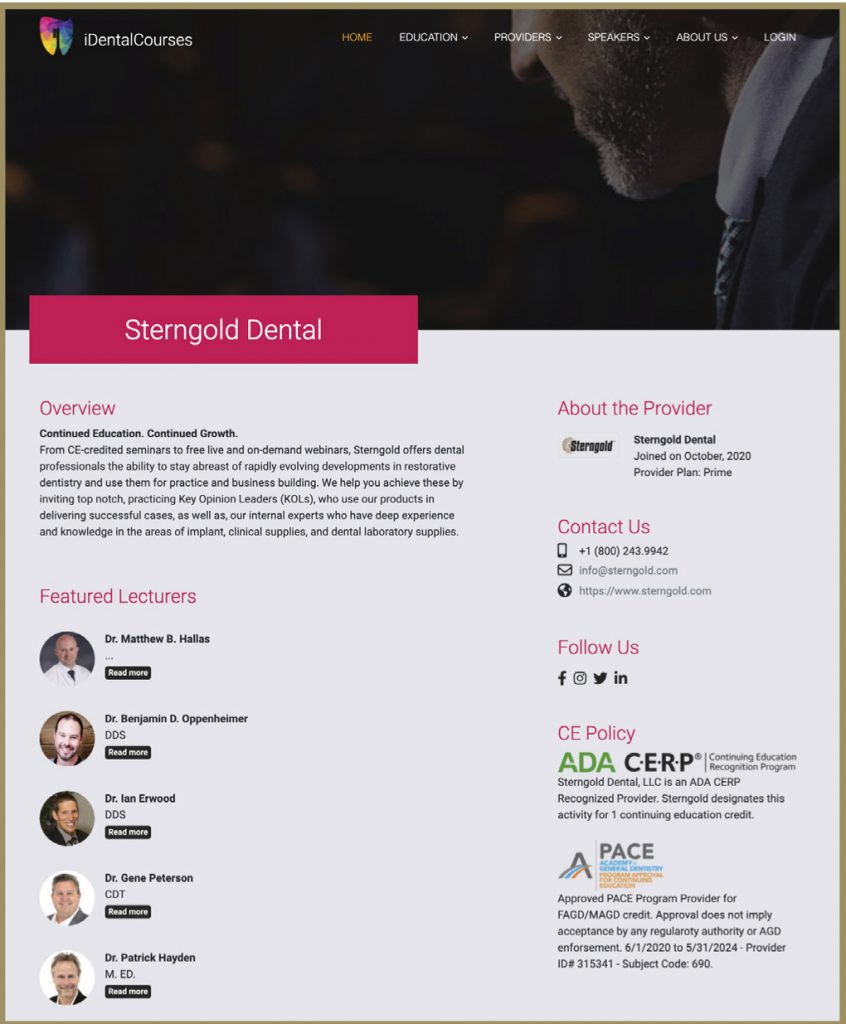 Launched in mid-2020, the iDentalCourses.com following has grown at a rapid pace since, as evidenced by the increasing content providers added on a daily basis, website traffic, referred registrations, and social media following. iDentalCourses.com is an additional medium between educational content providers like Sterngold Dental and the education seekers of the dental community.  According to Arlindo Neto, Founder and CEO of iDentalCourses, their mission in creating the platform is to centralize the best dental course providers and dentistry  schools of the world in one place by offering dental professionals and dentistry students an easy way to search for the best continuing education, online and classroom courses, covering hands-on training, webinars, conferences, symposiums and more. Neto states:  "Our promise is to ensure high quality of research, innovation, constant updates, and honesty. Our attraction in partnering with Sterngold stems from the quality of work and the company's professionalism". 
For Sterngold, partnering with iDentalCourses by placing its running CE and non-CE lecture and hands on courses on the site, is a great way to connect with students of dentistry and up-and-coming new dental professionals. Since the ultimate benefit of attending Sterngold courses is discovering products and solutions that can grow a practice through efficiency and expanded treatment, it can help the participants develop the resilience needed to thrive.
About Sterngold Courses
From CE-credited seminars to free live and on-demand webinars, Sterngold offers dental professionals the ability to stay abreast of rapidly evolving developments in restorative dentistry and use them for practice and business building. We help you achieve these by inviting top notch, practicing Key Opinion Leaders (KOLs), who use our products in delivering successful cases, as well as, our internal experts who have deep experience and knowledge in the areas of implant, clinical supplies, and dental laboratory supplies.
About iDentalCourses
Working in the dental field for the last 10 years, we found the necessity to have a tool where we could easily search for information about Continuing Dental Education, from different providers, all together in one place. So here we are for you.