Sterngold is pleased to announce that it is now offering PEKKTON® Retention Inserts in the United States!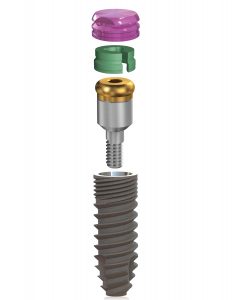 The LOC® System, featuring a tissue-colored titanium housing and four PEKKTON® Inserts of varying retention levels is now available for the SNAP and SNAP Angled Abutment system.
This attachment system includes the Yellow (extra-low retention), Red (low), Green (medium) and Blue (strong) attachment types. Sterngold has the exclusive opportunity to be one of the first authorized vendors of PEKKTON® Attachment Inserts in the United States.
PEKKTON® is the strongest polymer in it's class that has a high resistance to wear and incredible shock-absorbing qualities. It is lightweight and comfortable for patients making it an excellent option for your overdenture abutment attachment solutions.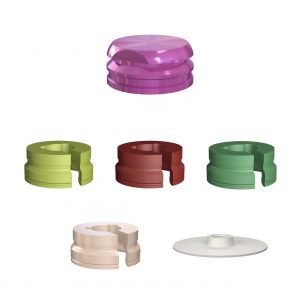 (click each image for product page)
Cendres+Métaux states that PEKKTON® (PEKK) is, "Not just theory, but practical studies prove the advantages of poly ether ketone ketone (PEKK) in dentistry. Unlike PEEK, PEKK displays both amorphous and crystalline material properties. This makes PEKK particularly interesting. Thanks to its unique mechanical, physical and chemical properties, PEKK lends itself to a broader range of uses than PEEK:
up to 80% greater compression strength than PEEK
wider processing window of parameters than PEEK"
PEKKTON® attachments are part of the CM® LOC system.
CM LOC® is a registered trademark of Cnedres+Métaux SA Switzerland .